I'm in West Palm Beach this week attending the Opal Group's annual Real Estate Investment Summit. The agenda covers a broad range of topics and experts covering a wide range of categories such as the real estate economy, property sectors, ESG, and of course, the big bad wolf known as inflation.
We all know that inflation is a big theme this year that's affecting global markets, and one of the biggest questions that investors have been asking is how it might affect their stocks.
This is my first conference in 2022 and I'm glad that the wheels are in motion for business travel to return to some state of normalcy. I plan on attending a conference in April (in San Diego) and two conferences in May (in Las Vegas).
I don't know about you but I'm seeing inflation at every turn….
Whenever I fill the gas tank for my car, or when I order a Latte, or when I pay for groceries.
Today at the conference, one of the speakers, Ryan Severino (chief economist at JLL) said that he's "cautiously optimistic" with real estate and he sees a "lot of momentum in the US economy" and he added,
"Pay attention to what consumers are doing, not what they're saying."
If you think about it, he's exactly right, consumers – especially in the US – are spending and Severino – believes that based on historical evidence "inflation decelerates over time." He added,
"Even in the '70s inflation decelerated."
The truth is that real estate generally does well during inflationary times, and of course, the great thing about REITs is that you can construct your portfolio on property categories that offer optimal pricing power.
One of the terrific things about real estate is that we can calculate the earnings potential for an underlying security easily.
Unlike most traditional c-corps, REIT revenue is generated from lease contracts, and although the longer duration leases don't offer the same pricing power as shorter leases (like hotels and self-storage), it's much easier to estimate the future earnings potential for a REIT because of the contractual lease obligations.
We believe that a "balanced approach" is the best way to succeed in the REIT sector.
This means that we're suggesting a barbell-like model in which you can allocate capital to various property sectors utilizing a risk-adjusted model. Here's how the bar-bell model works:
Short-Term Lease Sectors
Lodging
Self-Storage
Apartments
Single Family Rentals
Mid to Long-Term Lease Sectors
Net Lease (includes gaming)
Healthcare
Data Centers
Cell Towers
Retail
Industrial
I intentionally did not include cannabis REITs and office REITs since they're much more complicated. For the right investor, we consider both of these categories opportunistic, however, they're considered riskier sectors, so make sure you understand your risk tolerance profile.
Based on traditional REIT valuation metrics – dividend yield and P/FFO – these sectors are expensive (in bold):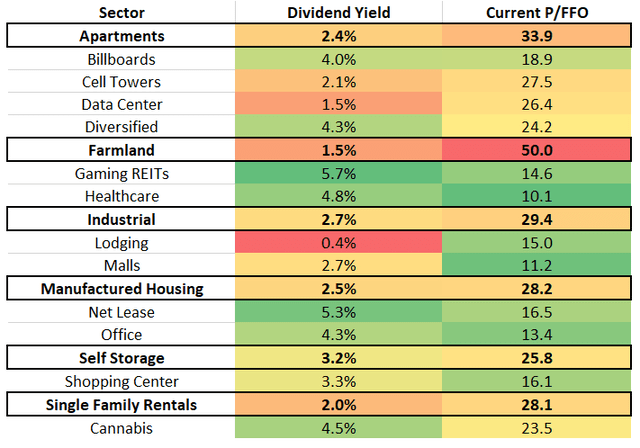 So, to select three of the best REITs to own during inflationary times, and commence the barbell blueprint, we'll take a closer look at these sectors (in bold):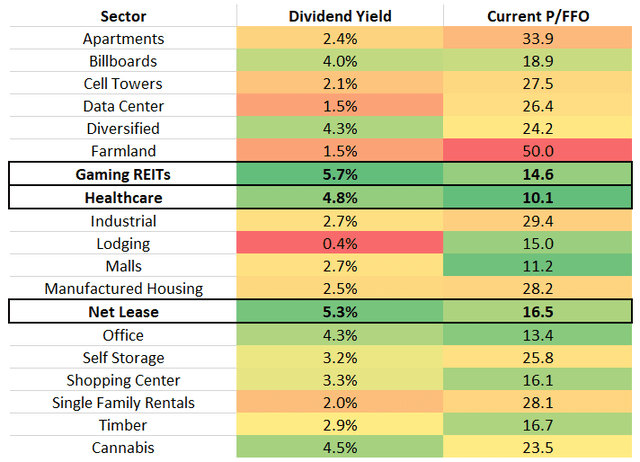 Pick #1: VICI Properties (VICI)
VICI is a net-lease REIT focused on gaming properties. The company owns28 properties today but will soon add another 15 as soon as the MGM Growth (MGP) deal closes.
This transformative deal is set to close over the next few weeks and will enhance VICI's geographic and tenant diversification, and that should also result in an upgrade to investment grade (later in the year).
There are 15 analysts who cover VICI and 14 have Buy ratings and the average growth estimate for 2022 is ~6%. Shares are now trading at $27.86 with a P/AFFO of 15.1x and dividend yield of 5.2%. VICI's equity yield is 6.7% which means new investors are getting a bargain to buy this basket of trophy casino assets.
As noted earlier, I'll be in Las Vegas in a few weeks and I plan to tour many of the assets owned by VICI, including Caesars Palace, The Venetian, and MGM. Hopefully by this time the MGP deal closes, and I'm sure the management team at VICI has their sights set on new deals, possibly outside of the US.
Our annual total return target for VICI is around 20%, broken down as 5.2% dividend yield + 6% growth + 10% multiple expansion. We like the odds!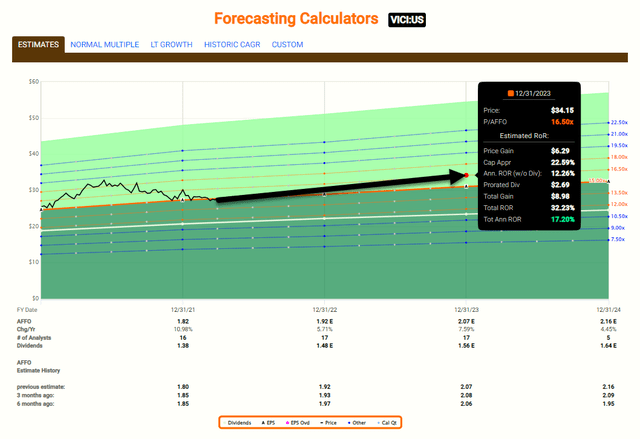 Pick #2: CareTrust (CTRE)
CareTrust is a healthcare REIT that focuses on skilled nursing (71%), multi-service campus (16%) and senior housing (13%).
The company owns 224 properties (23,421 beds) in 27 states (as of Q4-21) and has maintained low leverage 3.7x (flat Q/Q) vs. a 4.0-5.0x target and net debt to enterprise value was 23% (as of Q4-21).
In Q4-21 CTRE FFO grew FFO by 9% over the prior year quarter to $37.3 million and normalized FAD grew by 11.5% to $39.8 million.
According to CMS national data, sequential occupancy grew +80bp M/M through 3/13/22 (+45bp prior month) as Omicron faded. The pace of the occupancy recovery and waning government support will be key in maintaining rents.
CTRE shares are now trading at $19.16 with a P/AFFO multiple of 12.9x (normal is 14.4x) and dividend yield of 5.7%.
There are eight analysts who cover CTRE and six have BUY ratings and the average growth estimate for 2022 is 9%. We forecast shares to return ~25% over the next 12 months, and our model is based on 5.7% dividend yield + 9% growth + 10% multiple expansion.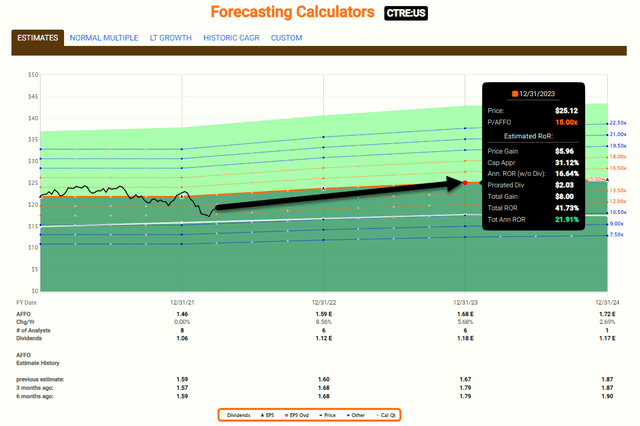 Pick #3: Essential Properties Trust (EPRT)
EPRT is now screening cheap, shares are now trading at 13% below our buy target. This net lease REIT owns over 1,400 free-standing properties with long duration leases (14 years WALT) and solid unit-level rent coverage (of 3.7x).
We've always liked EPRT and whenever shares get cheap, we usually gobble them up, which is the case right now.
One of the differentiators for EPRT is that the company buys smaller properties, averaging around $2.3 million in size, and this means that the underlying real estate (land) is usually well located. The company believes that its middle market focus provides the best risk-adjusted returns in the net lease sector.
So far in 2022 EPRT has closed $197 million of investments at a weighted average cash cap rate of 7.1% with a robust investment pipeline. Analysts are forecasting 12% growth (AFFO per share) in 2022 and that double-digit estimate ranks the company as one of the fastest growing REITs in our coverage spectrum.
Shares are now trading at $25.12 with a P/AFFO multiple of 18.2x (normal is 20x). The dividend yield is 4.1% but there's plenty of powder to grow based upon the low payout ratio of just 70%. As viewed below, we forecast shares to return over 20% annually – based upon 4% dividend yield + 12% growth + 5% multiple expansion.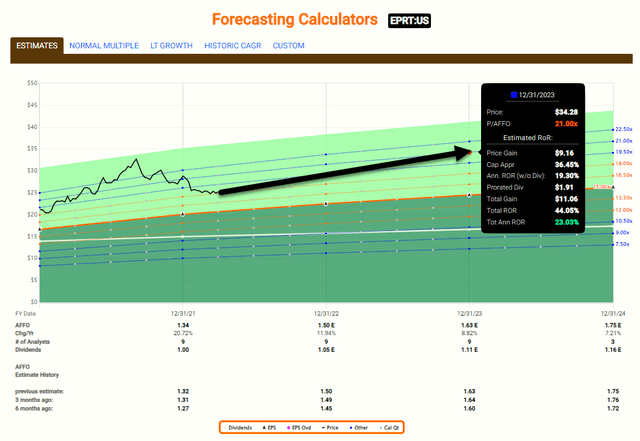 In Closing
Over the next few months, we will continue to provide readers with our best barbell picks as we look to balance our research around the REITs with shorter duration leases and REITs with mid to long duration leases.
We see value on both sides of the barbell and we believe that investors should consider selecting the highest quality names that are trading at a wide margin of safety. As the legendary value investor, Ben Graham, explained,
"…you must thoroughly analyze a company, and the soundness of its underlying businesses, before you buy its stock; you must deliberately protect yourself against serious losses; you must aspire to "adequate," not extraordinary, performance."
https://seekingalpha.com/article/4498491-3-reits-to-ride-out-inflation-our-barbell-approach