Kalispell is widely considered a Mecca of opportunities to get active, but April Schottelkorb is seeking to add activity options for a more diverse population.
Schottelkorb started Rylee's Play Place, a sensory gym on Whitefish Stage Road, to create a space that caters to children with different abilities like her daughter, Rylee. Schottelkorb took on the new business after she and her family struggled to find a place to play for her 11-year-old daughter, who has autism.
"I wanted a place for kids like her. For any kids," said Schottelkorb.
Rylee and her 9-year-old sister, Alia Johnson love going to playgrounds, but those aren't always inviting to Rylee. Rylee prefers not to wear a coat or shoes, which can create problems, especially during the colder months. And her mother said her behavior often draws stares from other children who aren't understanding about Rylee's differences.
"I wanted to create a place where she could be accepted more," Schottelkorb explained.
That place is a new sensory gym in Kalispell, where Rylee can play without her shoes, or any judgment.
Rylee's Play Place is a colorful, busy menagerie of toys and playground equipment inside what used to be a garage. Rylee and other children of all abilities can book time slots to come ride on the slide, swing on the swings or take flight on the indoor zipline. Schottelkorb has endeavored to include options for everyone at Rylee's Play Place, from quiet corners with fidget toys and a calming heated blanket, to lighted tunnels underneath a climbing wall, to a giant foam pit that daring children can jump into from the top of the rock wall. In a nod to Rylee and the soft, foamy surroundings in her play place, shoes are not allowed in the facility.
"I want to invite children with disabilities and different needs to come play here," Schottelkorb stressed. Fun Factory Sensory Gym, a national sensory gym company, helped Schottelkorb achieve that goal by putting in many of the main attractions, and Schottelkorb outfitted the space with a few added touches based on what her own children like to do.
Johnson said she and her sister love the trampoline and the zipline the most, but the fidget toys are also one of their favorite parts of Rylee's Play Place.
The gym is limited to five children at a time, accompanied by a parent and on-site supervisors, so everyone has a chance to jump, swing, or camp out in the tepee. There is no age limit, because Schottelkorb wanted to make sure Rylee's Play Place is open to a range of developmental levels, but there is a weight limit for attractions such as the trampoline.
Rylee's Play Place has two play slots every weekday, and the space can also be used for parties or therapist appointments. When she isn't watching her daughters fly through the monkey bars, Schottelkorb works as a play therapist, so she values Rylee's Play Place as a vessel to help children communicate.
Rylee's Play Place has only been open for a week, but in the future, Schottelkorb is thinking about expanding into additional nearby spaces to create even more opportunities for her daughters, their friends and children like them to kick off their shoes and have fun.
To book a slot at Rylee's Play Place, go to https://www.ryleesplayplace.com. The facility is located at 1322 Whitefish Stage in Kalispell.
Reporter Bret Anne Serbin may be reached at 406-758-4459 or [email protected]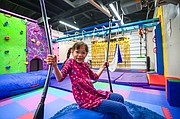 https://dailyinterlake.com/news/2021/oct/24/play-place-fills-need-fun/